Solar energy solutions for the pharmaceutical industry
Creating pharmaceutical products requires a lot of energy in every step of production. For this reason, integrating solar energy solutions in this sector will enable a consistent and reliable energy source while reducing carbon emissions and saving energy costs. Moreover, these solutions do not interfere with the production system, which is highly controlled in the pharmaceutical industry.
The pharmaceutical companies can benefit from our holistic solar energy solutions to decarbonize processes such as:
Technology mix for the pharmaceutical industry
The pharmaceutical industry can significantly reduce emissions and its dependency on fossil fuels with Industrial Solar's mix of technologies. We assess your needs and industry-specific requirements to present the best ways to utilize various technologies to maximize your energy yield. Typical solutions included in our system analysis are
The pharmaceutical industry has a great potential to benefit from the combination of heat and power technologies we offer. See our example applications below!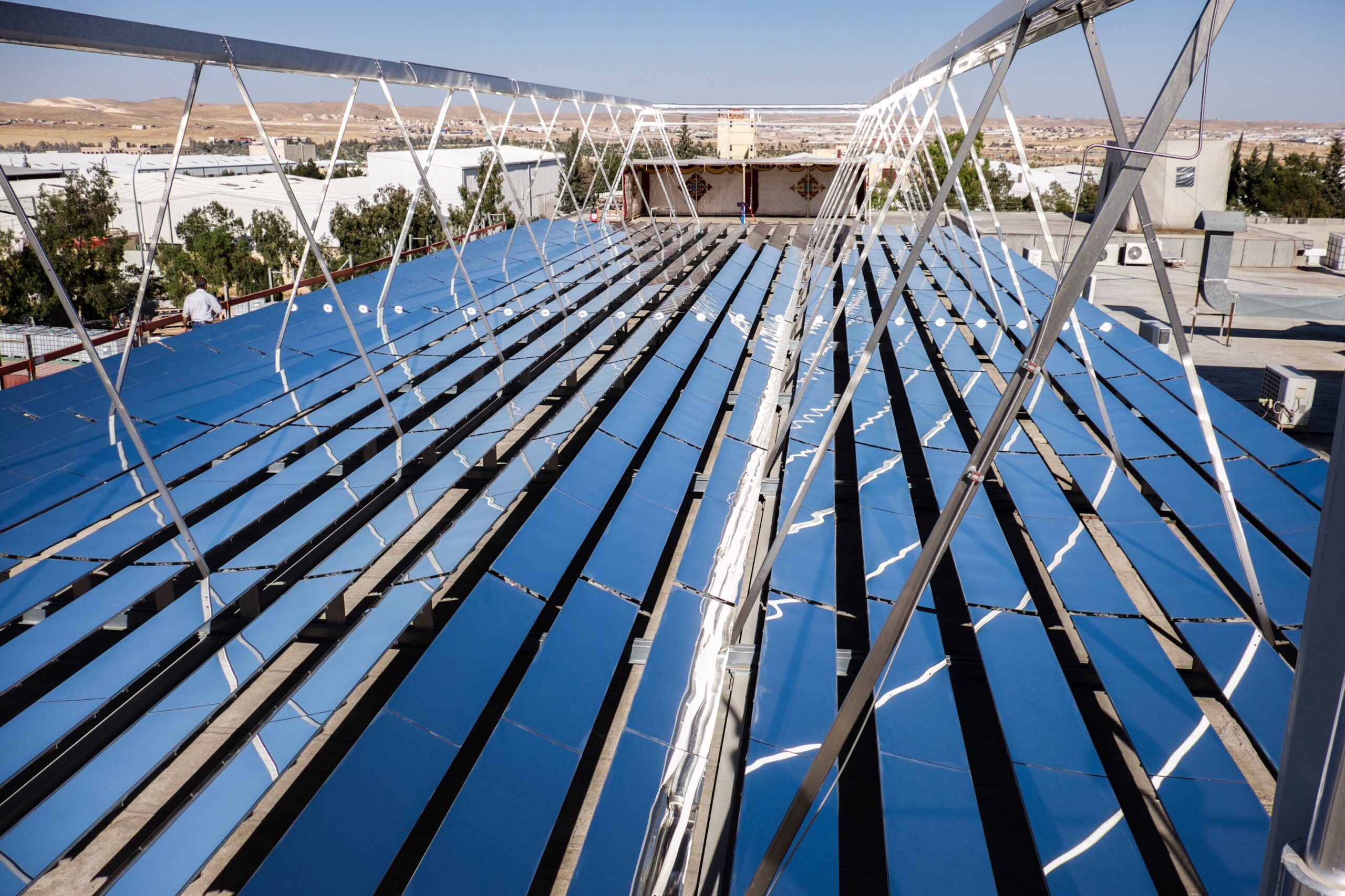 Steam generation at RAM Pharma in Jordan
We provided RAM Pharma in Sahab, Jordan, with a system solution to generate steam with solar energy. Since Jordan has high direct solar irradiation, we opted for concentrating solar collectors to provide heat at the supply level in the factory steam network. Thus, a Fresnel collector system with an aperture area of 400 m² and a thermal capacity of 223 kWth was installed on the warehouse roof.
The water partly evaporates in the absorber tube and is fed to buffer storage from which steam at 160 °C is directly released to the company steam grid. Since the system works in direct steam generation, no additional heat exchangers are used. In this system, the steam drum offers further benefits to its users. For instance, it increases the capacity (during peak demand, the boiler and drum work in parallel) and smooths the pressure fluctuations within the steam supply network.
Heated air generation at Pfizer Manufacturing Deutschland GmbH in Germany
We installed a solar drying system for air-conditioning in the production facilities for Pfizer Manufacturing Deutschland GmbH in Freiburg (Germany), helping realize their rearrangement of processes and the implementation of continuous production. Four collector fields with (in total) 20 collectors and an aperture area of 110 m² were installed on the factory's roof. Unlike most solar thermal installations, which use water or a water-glycol mix, the Solar Thermal Air Regeneration system (STAR 2) uses air as a heat carrier. The STAR 2 system reduces CO2 emissions by 36 tons annually, approximately as much as the combustion of 9000 liters of diesel.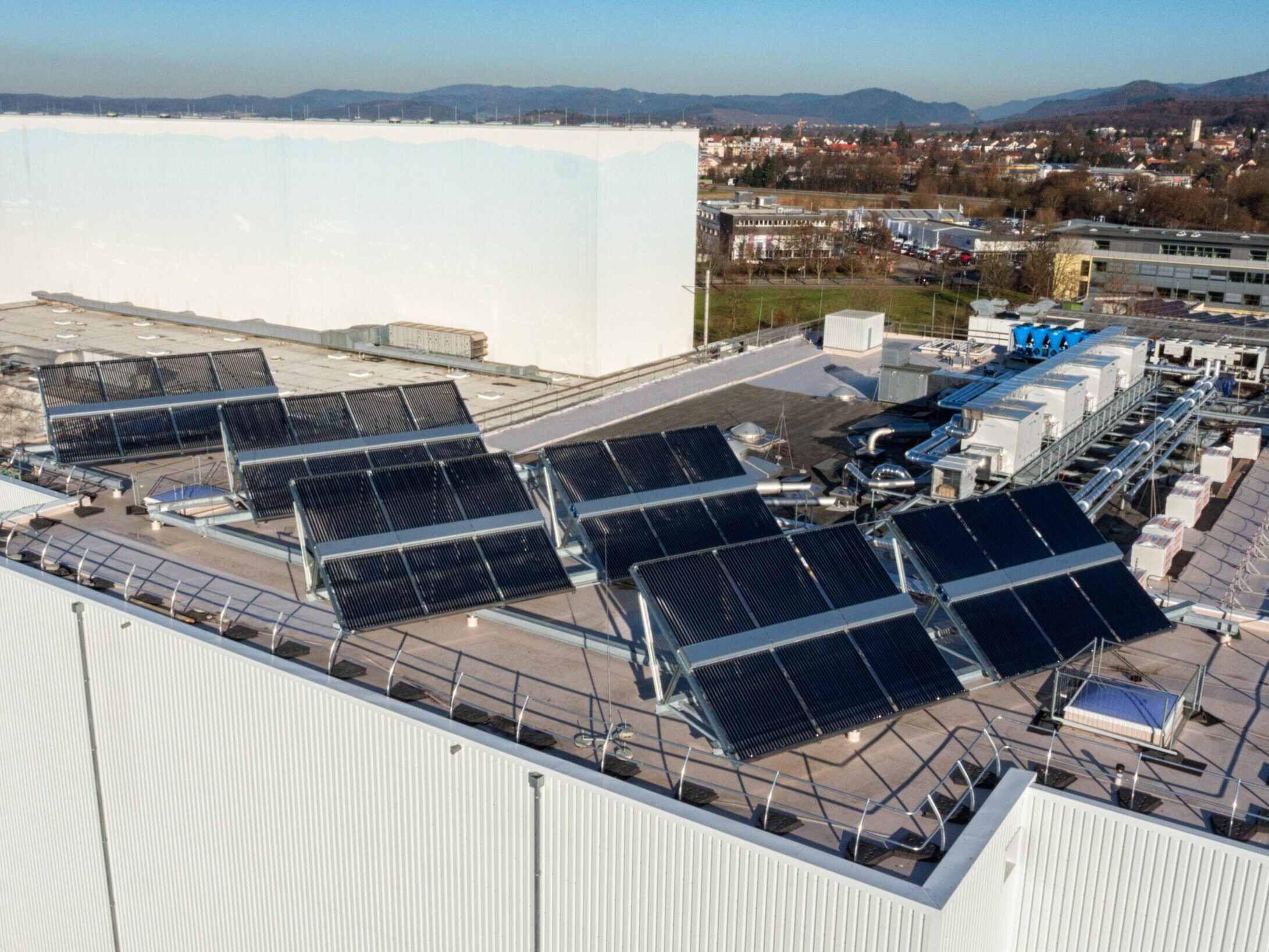 All industrial sectors need renewable energy solutions now more than ever. The pharmaceutical industry is no exception, especially its energy-intensive processes and high emissions make it more viable to benefit from renewable energy solutions.
We provide solar energy solutions for the pharmaceutical industry that can easily be installed on a large scale for industrial use. By integrating solar energy technologies in your industrial plant, you'll:
Overall, our solar energy solutions help you take a step further in decarbonization and energy independence, which are becoming increasingly important.
We combine German engineering expertise with holistic solar energy solutions to make the industry carbon-free. To this end, we offer the following services and more!
Contact us for further information!